(knock)
(knock)
(knock)
Good Morning Chicago!!!
This morning a number of my recruiter colleagues from Minneapolis and St Paul are arriving for a day of recruiting Chicago tech professionals ending with a 2 hour gathering at Motor Row Brewery on Michigan Avenue in Downtown Chicago.
That's right… we're busting out of Minneapolis and knocking on Chicago's door.
Literally.
And it's about "darn" time.
A few years I had an idea to take a few of my startup friends to the West Coast and put together a gathering of people who would want to hear about the Minneapolis and St Paul startup and tech community. There was a lot of interest in it but I needed help in getting out the word and planning. And… we were all busy recruiting and growing our companies so it didn't happen.
Fast forward to the past year plus of the Make It MSP Tech Team meetings led by Tech Team Coordinator Dan Linstroth and with Emily Fritz, Director of Talent Acquisition at Target, and support from  from Make It MSP, we are taking our first trip to another city.
Why Chicago?
Simple… we have data showing Chicago tech pros want to hear about the Minneapolis and St Paul startup and tech scene. I love Chicago but there are some things going on in the region that have tech pros looking elsewhere.
And we gladly take a trip to chat with them.
And not just a few… as of this morning we have 90 people registered.
This is good timing too with Twin Cities Startup Week in two weeks.
Who is on the trip?
Recruiters from Target, Best Buy, UnitedHealth Group, Medtronic and General Mills
I am representing my clients: Branch Messenger, Livefront and The Wildflower Foundation.
And support from HealthPartners and TCF Bank.
While each of us is recruiting for our companies we are also ambassadors for our region. I need to stress that… we are advocating for our tech community. We may meet someone today who is looking for a role, style of company or industry that we do not represent. We will do whatever we can to get them in touch with our friends back home and make introductions.
I'm super happy we are making this trip and I know this sets us up to do these excursions to other towns.
If you are hearing about this for the first time it's not too late to sign up or tell a friend. And if you are coming across this after the event and want to know more about the Minneapolis and St Paul startup and tech scene send me an email paul@mnheadhunter.com and I will answer questions and introduce you to our town.
About the event from the registration page (click Make It. MSP: Your Next Tech Opportunity Lives Here):

Your Next Tech Opportunity Lives in Minneapolis-St. Paul.
Join us on September 28 from 4pm - 6pm at Motor Row Brewing to learn about the 1000s of tech career opportunities in the Minneapolis-St. Paul area.
Minneapolis-St.Paul is a place for the innovative, creative and passionate technologist to thrive. With 17 Fortune 500 companies, a fast growing startup ecosystem, an affordable cost of living and access to world-class amenities, the opportunities are simply unmissable.
Join Make It. MSP and representatives from Target, Best Buy, United Healthcare, Optum, Medtronic, General Mills, Branch Messenger, LiveFront, TCF Bank and more on September 28 from 4pm to 6pm as we invite the Chicago tech community to learn about the 1000s of tech career opportunities in Minneapolis-St Paul.
The Event:
While this will be a fun, business casual environment, you will have the opportunity to interact with hiring professionals, submit your resume and schedule interviews. We will also have representatives on site to answer questions about living and working in the Minneapolis-St. Paul area, like:
How to begin your job search for a technology career in Minneapolis-St. Paul
How to get involved with our growing startup ecosystem
How to find job opportunities for a significant other
What is happening in the local social scene
How to find affordable housing
How families can thrive in Minneapolis-St. Paul
How to engage with our world-class arts and theater scene
And more
Drinks and snacks will be provided. Dress is business casual.
Who should attend:
All Chicago technologists who are considering a new place to live, work and thrive. If you are passionate about technology, startups and innovation this event is for you.
We will have employers from some of the world's best companies on site to speak with Chicago technologists who work in the following job roles:
Software Development/Engineering
Product Management
UX Design
Infrastructure & Operations
Data Science
Security
Mobile
Why Minneapolis-St. Paul:
"Minnesota is the #1 fastest growing states for tech jobs." - Forbes
As the tech and startup capital of The North, innovative companies are developing leading edge tech solutions and exporting innovation on a global scale. Our tech industry is fueling a growing economy and we need more people.
There are over 50,000 jobs are available in Minneapolis-St. Paul today.
Come meet representatives from some of the best companies in Minneapolis-St. Paul in a fun, casual atmosphere. While you're there, learn about the best careers in technology our region has to offer and how we are working to make Minneapolis-St. Paul the best place for talented people live, work and thrive.
We want to empower the future technologists, entrepreneurs, creators, innovators, and game changers who will shape the future of Minneapolis-St. Paul's economy.
We're here to inspire you to become our next success story.
About Make It. MSP
Talented people drive the Minneapolis-Saint Paul region's thriving economy. And people collaborate here. Now through the backbone support of GREATER MSP, the Minneapolis-Saint Paul Regional Economic Development Partnership, all kinds of people and organizations are coming together to showcase our region's tremendous assets in order to attract, welcome, elevate, and retain talented people from here and around the globe.
We're collaborating to improve social inclusion, support innovative talent, connect people to our community and employers, and help close our region's near-term talent gaps.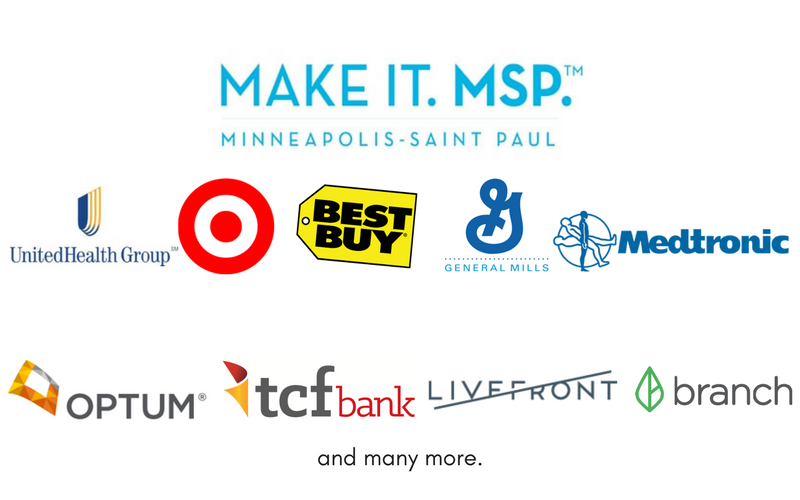 Click Minnesota Headhunter for current blog posts and Minneapolis IT Jobs for searches I am working on.
Stay in touch with me by clicking: